Branding:
For most people, the word generally evokes the thought of red-hot irons searing a shape onto the backside of cattle – done to be able to identify one ranchers cattle from another.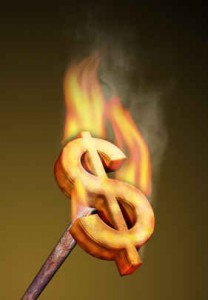 Branding is often associated with trademarks and/or logos. However, since around 1940, branding has come to cover much more marketing ground. Companies soon adopted slogans, mascots, and jingles that began to appear on mass media such as radio and television. From there, they quickly learned to build their brand's identity and personality with terms such as youthfulness, fun or luxury. This began the practice we now know as "branding" today, where the consumers buy "the brand" instead of the product.
Brand awareness refers to customers' ability to recall and recognize the brand under different conditions and link to the brand name, logo, jingles and so on to certain associations in memory. It consists of both brand recognition and brand recall. Brand awareness is of critical importance since customers will not consider your brand if they are not aware of it or can't recall it. The number 1 enemy to branding is fragmentation or the  number of places you try to hit people with your message.
Jimmy Buffet suggests that a tattoo is "… a permanent reminder of a temporary feeling." For most companies, the goal of branding is top-of-mind awareness (TOMA) – such that their brand is positively lodged in your brain and pops up during your buying and/or referral cycle. Karen Post, refers to this as a 'Brain Tattoo'.
Its not just big companies that have a brand, even the sole proprietor is, themselves, part of their brand. A brand isn't just a memorable logo or catchy jingle, it includes all the collateral material you send out, the website customers visit, the delivery vehicle and signs you use, and even how you address customer service issues.
Brand integration means communicating a consistent identity from message to message, and medium to medium, and delivering consistently on that identity. Integration is your weapon against fragmentation. Proper branding can result in higher sales of not only one product/service, but on other products/services associated with your brand.
Identity:
As mentioned earlier, branding often starts with a logo. After you've decided to "do", "make", "offer", or "provide" something, the next question is generally "What do we call it"?
The next 'piece' in the branding puzzle is to create an image, "look" or logo that will identify you, your service and/or your product and to project/reflect the personality necessary to build your 'tat'.
We will work with you to develop an identity and the artwork that will work in a variety of media, from print to video to the internet.