Open up your business to the world with the click of a mouse
Although less than 7,000 days old, the Internet has fundamentally changed the way we work and live. Whether it is for informing about or promoting your products or services, effecting financial transactions, or simply for the sake of having some kind of presence in the 'virtual' world, a website is a prerequisite to tap the local and global marketplace.
It's unimaginable to run a small business or a corporation without an online platform. If your goal is to reach your target audience, spread your influence and establish communication with more potential clients, then owning a website is the perfect solution.
When building an online reputation – the first impression is often all that counts. A website should influence potential clients/customers such that they will opt for your company over others. A custom professional design strengthens your credibility and it is a medium that delivers an effective message about your services, business, and/or company.
Website Design:
With a website design (or re-design) from IFI, people around the world will see firsthand why they want to do business with YOU!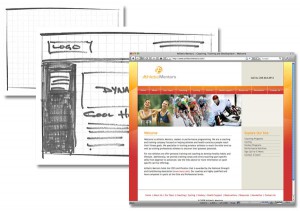 The Imagination Factory has a unique approach and transparent work process for web design. We offer fresh, yet proven solutions, which are tailored to your specific needs. We analyze your competitive online marketplace and discuss/determine your target audience to develop a web site aimed at helping you accomplish your goals. We are dedicated to helping you promote your services and to establish a stable, yet flexible online presence.
We've designed AND currently host hundreds websites for clients in the entertainment, banking, manufacturing, medical, legal, service, educational, non-profit, and pure e-tail industries for companies around the wURLd.
We are proficient in producing affordable yet professional and effective website designs. Websites, like clients, come in a variety of flavors and IFI has the expertise design and develop one for those many needs, including:
Online Brochure / Information / Educational Websites
eCommerce Website
Business to Business
Business To Consumer
Start Up Websites
Brick & Mortar Websites
Website Re-Design (or we fix bad websites):
You might have been an early adopter having recognized that a website was an integral part of your business strategy, but that strategy may have changed and the old site might not be performing as well as it could. A website redesign can help you to upgrade your existing website thereby give you a chance to offer your customers/clients a completely new user experience.
The benefits of a website redesign are numerous but one of the most important ones is SEO (Search Engine Optimization) which helps you to position your website higher in the search engine directory. Over the years, search engines have changed their criteria and your website might not be keeping pace and suffering.
However, ranking higher is just part of the story. Recent research from SMB DigitalScape analyzed more than 1 million small business websites in 14 countries, 700,000 of them in the US. Here are some of the results (any one of which could affect how well a site performs):
60% of small business websites lack contact phone numbers on their home pages
75% lack an email link on their home page
66% lack a contact form for people to request information
94% are not responsive and will not render correctly on a smartphone, tablet or other mobile devices
So, just getting visitors to the site doesn't help if you lose sales because the design doesn't help you communicate with them.
The Imagination Factory will analyze your website, discuss your objectives, and suggest how to best redesign it. We want to help you improve your online exposure and reach more potential clients.
HTML (static) vs CMS (dynamic):
Website development has evolved from hand-coded HTML-based to more sophisticated, flexible and owner friendly CMS-based (Content Managed System) structures. Properly designed, HTML websites are simple, easy to use and user friendly. HTML-based sites are search-friendly and widely supported, but are a bit more daunting for the owners to control and maintain.
CMS allows owners to take full control of their websites, and to rapidly update the content, images and links in order to provide their clients/customers a better users' experience and an insight into new services, products and business innovations. A CMS-based site enables owners to accomplish higher search engine rankings through a more integral SEO.
The Imagination Factory is proficient in building custom, user- & search-friendly websites in either format. Contact us now to have one built or re-built for your business.